CUSTOM & PERSONALIZED GIFTS
FOR YOUR FAVORITE COACH
A coach is to a team as a rudder is to a ship. Always there to offer words of encouragement and support, and to provide sage advice on how to improve so you can win, the coach is the backbone of any competitive team. Despite everything the coach does, he or she isn't in it for the glory, but for the love of the sport. ChalkTalk SPORTS, Inc.® is a company run by athletes dedicated to creating fun and functional, yet unique, gifts for athletes of all ages. As a result, we never forget about the coaches, since we know how important they are to every player in every sport — and have tons of creative and unique gifts that any coach will love for years to come.
Personalized

Clipboards

for Coach
Every coach needs a clipboard, and ChalkTalkSPORTS.com® has customizable dry-erase clipboards that allow coaches to draw up plays – and make last-minute changes – with ease. Whether you play basketball, baseball, football, hockey, soccer, girls or guys lacrosse – or any other sport, we have a clipboard that is perfect for your coach.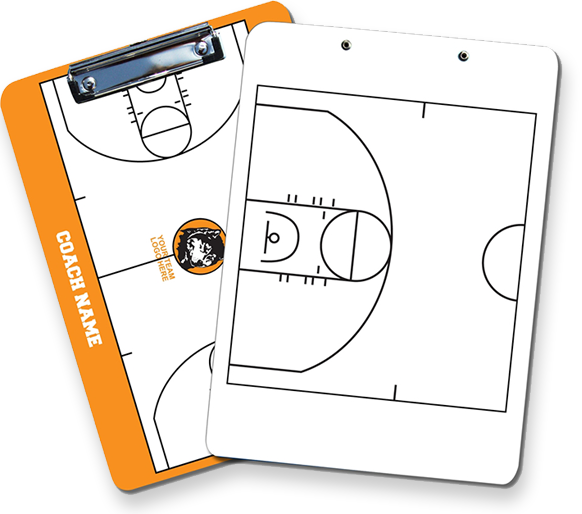 Personalized Engraved

Coach Whistles
One of our most popular coach gift ideas is our engraved whistles for coaches. These memorable keepsakes are thoughtful and loved by any coach lucky enough to receive them. Our engraved whistles come in multiple finishes, to suit all budgets and coach personalities. Each whistle comes with a display box for protection that will look good in their office, on their desk on a shelf. Make this gift even more personal by adding a coach's favorite quote, name or team name. A coach whistle is a simple but very appropriate gift. It is one that can be used every day or as trophy to commemorate a hard fought season.
Your coach will be the proudest play-caller around with a personalized, engraved coach whistle. You can choose from 14K gold, 24K gold, or silver, plus a wooden case and/or a lanyard, depending on your coach's taste. On the side of the whistle, we can engrave initials or up to two lines of text. With a gift like this, you don't even have to wait until the end of the season. If your coach is a Father, give it to him on Father's Day. It's better than another tie. If your coach is a mother, and she wants something shiny get her a coach whistle – but I recommend you get her flowers, too. Birthdays, retirement and holidays are all great opportunities reward coaches for their dedication and hard work to their team.

EVEN MORE PERSONALIZED ENGRAVING?
You bet! We have a large assortment of engravable gifts for your coach, including a soccer engraved pen set, a paracord bracelet for any sport, or even engraved dog tag necklaces and keychains that make great hockey, lacrosse, or football coach gifts.
CUSTOM

PICTURE FRAMES

FOR COACH'S BIGGEST MOMENTS
Your coach will love to display your team photo in a customized coach picture frame. Don't have a team photo? No worries — a snapshot of a memorable moment, or even just a great photo of your coach will make a great addition to this gift that is sure to adorn his or her office long after the season has ended.
SPORTWORDS

FOR COACH?
Of course we have customizable SportWORDS for your coach that are ready for the whole team to sign. Your favorite play-caller will never forget the great season you played together when everyone signs this handcrafted wood cutout that reads 'coach'; and is ready to be signed by the whole team in silver marker – which is included. There is also a coach SportWORDS that is not recommended for signing, for those who want a cleaner, simpler SportWORDS option for their coach.
BUT WHAT ABOUT PERSONALIZED

BALLS, PUCKS,

AND

MINI STICKS

OR

BATS?
You bet! Add any text you like to the personalized mini engraved baseball or softball bat, or pick up a custom logo baseball for our baseball coach. For your hockey coach, choose from (or pick up both!) a personalized "thanks coach" hockey puck or a customized mini hockey stick for your coach. These perennial favorites are always a hit with coaches.
Softball coaches love to get personalized softballs, which can include text of your choice. If LAX is your sport, lacrosse coaches are huge fans of our personalized ceramic lacrosse mugs. When it comes to choosing the perfect personalized and customized gift for your coach, the most important thing is to think of what they like and what kind of personality they have and go from there.
IS THERE ANYTHING ELSE?
Glad you asked. We have thousands of items that would make perfect gifts for coaches, including personalized mugs, water bottles, coasters, ornaments, jewelry, leggings and other apparel, performance beanies… you name it, we can help you turn it into a custom coach gift that is perfect for you coach, whether he or she coaches anything from hockey or lacrosse to figure skating or gymnastics.
Coach
A person who teaches and trains the members of a sports team and makes decisions about how the team plays during games.
INSPIRATION….
Need some ideas on how to personalize your gifts for coach?
While there are many ideas already on the site, you may want to add your own personal touch. How would you describe your coach? Tough but fair? Patient but demanding? A leader who lets you find your own way? Give some consideration to your coach's personality before choosing the gift. Do you want it to be in team colors, or is there a color he or she likes better?
Your coach is dedicated to the team and to unlocking the potential in each player, as well as the team as a cohesive unit. She or he believes in you, encourages you, and develops your individual skills to push the team to be the best it can be.
Check out some of our favorite suggested gifts for coach at the best gift source for coaches, ChalkTalkSPORTS.com®.
ABOUT US
WHO IS ChalkTalk SPORTS®?
ChalkTalk SPORTS, Inc.® is a family-owned company that started out of the garage with just a few hockey and lacrosse products, and now is home to hundreds of thousands of customized sports products covering everything from lacrosse and hockey to baseball, softball, soccer, cheerleading, running, and even fly fishing and ping pong!
With an assortment of products that range from socks and headbands to t-shirts, leggings, and beach towels, to customized gifts such as picture frames, jewelry, and lots more, you'll find the perfect gifts for even the most difficult to shop for sports enthusiasts. Never be stumped for a great gift idea again, thanks to ChalkTalk SPORTS®.
OUR MISSION
Having grown up playing sports and benefiting from the many mental and physical health benefits that come from organized sports, ChalkTalk SPORTS® aims to promote and support the development of youth sports, especially for less privileged or inner-city youth, via charitable outreach and by donating a percentage of certain sales to organizations we believe in. You can read the full story behind ChalkTalk SPORTS® here.